There are Many Uses for Pine Straw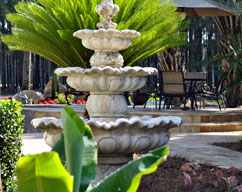 If you enjoy yard work and know how to take care of your yard or garden, you have probably heard plenty about the uses for pine straw and know exactly why you should be using it. In fact you're probably already using it!
As we researched how our customers are using pine straw and pine needles we came across some interesting uses we thought we would share with you.
Most people relate to pine straw as "the mulch;" straw mulch is an organic material used to cover the topsoil in gardens and landscapes. Other benefits of pine straw include helping your trees, plants, and garden in many beneficial ways such as erosion control or weed control. Once you begin using it, you begin to realize all of the benefits of using pine straw. You may never use anything else as organic garden mulch.
So, what if you wanted to use pine straw or pine needles for something other than prettying up your yard? You can! All over the world different species of pine trees and pine needles are used for all sorts of art, healing, cleaning and even pine needle tea.
How about making pine needle baskets with instructions like this one at knowitall.org? Pine needle baskets seem to have quite a historical and modern day cultural following. Then there's the Japanese red pine needle oil "used for over 4,000 years in traditional oriental medicine to treat over 170 health issues" (quote found all over the Internet). There's a pretty good article about the properties and benefits of red pine needle oil here. Looking for a medicinal herbal tea? How about making some pine needle tea? It's not what you think; they say it's mild tasting and that Native Americans used pine needles in tea for medicinal purposes. It's also noted in one blog as a survival food.
The North American loblolly, slash and longleaf pine needles are dropped to the pine forest floor then hand raked and cleaned of twigs and other debris, bound into bales and sold as pine mulch and groundcover. Custom Pine Straw procures its pine straw from Florida, Georgia and Alabama managed pine timberland and may not be used for all the products noted above. Make sure to identify the freshness requirements, the best (and safest) pine species or pine needle for the pine product you're going to make or use.
Custom Pine Straw has been a wholesale pine straw producer and vendor of quality hand-raked pinestraw mulch; serving retailers, garden centers, landscapers and lawn and garden professionals since 1997. Each pine straw bale is highly compressed and contains over 3 cubic feet of pine straw. Our customers rely on our overnight pine straw delivery in the southeast Unites States daily.
Are you looking for other ideas on the uses for pine straw? You may find the pine straw use articles below interesting:
Get a Pine Straw Quote Now
Get an instant pine straw quote now. If you have any questions about our pine straw, deliveries or other services please call us at (386) 935-6933.
Read More
Wholesale Pine Straw
Our pine straw bales are sold wholesale at wholesale pricing. Each pine straw bale contains over 3 cubic feet of highly compressed pine needles.
Using pine straw as a natural garden mulch keeps down weeds, traps moisture, prevents topsoil erosion, and even keeps the soil around the plants at a stable temperature. This is incredibly important with newer plants or those with shallower root systems.
Read More