Plants That Love Pine Straw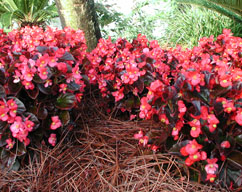 Pine straw has been a preferred choice of landscaping mulch in southern states and across the United States for over 20 years by landscapers, homeowners and business owners.
Pine needles have been favored in landscaping projects ranging from residential to industrial and highway landscapes.
Pine needle mulch is a natural soil enhancer that reduces erosion, slows down moisture evaporation and keeps down weeds. There are many more benefits to using pine straw as a natural mulch; read about pine straw benefits.
Pine needles are also known as pine straw. Pine needles usually have a high amount of acid, so care must be taken when placing them in your whole yard or landscape, depending on pH levels. There are many plants that love all the pine straw acid.
Pine needle is an excellent choice for garden mulch around newly planted annual flowers such as:
See a short list of plants that love pine straw.
Why use organic mulch such as pine straw?
Garden mulch helps provide a healthy environment for plants to grow their very best. It also promotes uniform growth and as the pine needles slowly decompose over time they release organic nutrients that enrich the soil.
Some flowers, shrubs and trees that do great in pine straw:
Amaryllis
Azaleas
Bluebell
Camellias
Chrysanthemum
Columbine
Dahlias
Daisies
Daylilies
Dogwood
Fir Trees
Gardenias
Holly
Hydrangeas
Mountain Ash
Mums
Pine
Rhododendrons
Roses
Spruce
Western River Birch
Some fruits and vegetables that do great in pine straw are:
Blueberries
Bog Rosemary
Cranberries
Garlic
Mint (Herb)
Onions
Potatoes
Raspberries
Strawberries
Tomatoes
Pine needles interlock and stay in place even on landscapes that are on a slope. The interlocking of pine needles keeps them from being blown out of landscapes and gardens during strong winds and storms.
Get a Pine Straw Quote Now
Get an instant pine straw quote now. If you have any questions about our pine straw, deliveries or other services please call us at (386) 935-6933.
Read More
Wholesale Pine Straw
Our pine straw bales are sold wholesale at wholesale pricing. Each pine straw bale contains over 3 cubic feet of highly compressed pine needles.
Using pine straw as a natural garden mulch keeps down weeds, traps moisture, prevents topsoil erosion, and even keeps the soil around the plants at a stable temperature. This is incredibly important with newer plants or those with shallower root systems.
Read More