Pine Straw as an Organic Mulch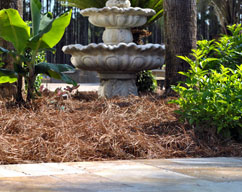 Why use pine straw as an organic landscaping mulch?
Pine straw is one of the most desired natural organic mulches on the market today. Pine mulch is available in wholesale bulk form right here on CustomPineStraw.com. Our pine straw boasts numerous benefits including the prevention of topsoil loss due to wind and water erosion, reduction of damage from trimmers or mowers, improving soil fertility, reducing weed growth, stabilizing soil temperature fluctuations, and improving soil tilth.
According to an article by Colorado State University, the term soil tilth refers to "the soil's general suitability to support plant growth, or more specifically to support root growth." Tilth is technically defined as "the physical condition of soil as related to its ease of tillage, fitness of seedbed, and impedance to seedling emergence and root penetration." A soil with good tilth has large pore spaces for adequate air infiltration and water movement. (Roots only grow where the soil tilth allows for adequate levels of soil oxygen.) It also holds a reasonable supply of water and nutrients."
In addition, the use of our pinestraw in your landscape can reduce water usage by maintaining soil moisture naturally. Pine straw helps with other common water concerns as well. Rainwater runoff is reduced, and less soil will be washed away during a storm. This also greatly helps to reduce the issue of soil compaction.
Another benefit of using our pine straw as your garden and landscaping mulch is the attractiveness. Next time you go out, notice many businesses use pine straw in their professional landscaping. Take note of businesses that use stone and wood chips as well. Wood chips tend to be very messy, especially after heavy summer rainstorms, and rocks offer no nutrition for the plants.
Several companies including most golf courses choose pinestraw to accent their plants. In fact the prestigious TPC Sawgrass golf course, home of "The Players" golf championship, uses pine straw in most of their gorgeous landscaping jobs. If pine straw is prestigious enough as a backdrop for a golf tournament broadcast worldwide, it is certainly a top choice for the average businessman or homeowner.
Our goal is to become your preferred pine straw vendor by delivering our high-quality pine straw product at competitive pricing rates. We own our own fleet of trucks and trailers, and our drivers work directly for us. This ensures that we fully control the quality of our pine straw, products and delivery service. Contact us for a quote today!
Custom Pine Straw is a wholesale distributor requiring a minimum of full truckload orders of pine straw bales for delivery.
Get a Pine Straw Quote Now
Get an instant pine straw quote now. If you have any questions about our pine straw, deliveries or other services please call us at (386) 935-6933.
Read More
Wholesale Pine Straw
Our pine straw bales are sold wholesale at wholesale pricing. Each pine straw bale contains over 3 cubic feet of highly compressed pine needles.
Using pine straw as a natural garden mulch keeps down weeds, traps moisture, prevents topsoil erosion, and even keeps the soil around the plants at a stable temperature. This is incredibly important with newer plants or those with shallower root systems.
Read More